The holiday season is upon us. Thanksgiving, Christmas, New Years mean big family meals and holiday office parties. Not to mention the eggnog, cakes and pies which can all put a strain on our waistlines.  These Five Ways to Make the Most of the Holidays will help you enjoy the holidays and all they bring without regrets.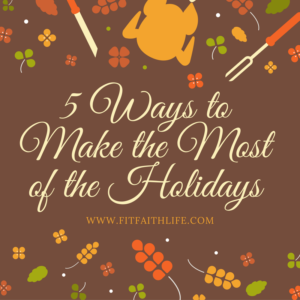 De-Stress and Get Rest:
The holidays can bring stress from fighting traffic, hours of shopping for food and for the perfect gift.  Stress can add inches to your waistline. Stress can lead to elevated cortisol levels which can interfere with learning and memory, lower immune function and bone density, increase weight gain, blood pressure, cholesterol, and heart disease. Avoid the rush by making a list of all that you need to get before you leave the house or better yet shop from home.  Online shopping is a way avoid the hustle and bustle and find some great deals. Sites like Amazon give you the option to shop from the comfort of your home and save time, gas and money. Many grocery stores offer a shop from home option and they will deliver your items right to your door.
During this holiday season take the opportunity to de-stress by drinking a cup of herbal tea, diffusing your favorite essential oil, lighting your favorite candle or simply taking a walk.  Also remember, that rest is the key to rejuvenation. Getting enough sleep during the holiday season might be a challenge but your mind and body will thank you if you maintain as regular a sleep schedule as possible.
Drink Your Water:
Water is vital to maintaining your health and wellness. It is also important to maintaining your waistline.  While you are out and about this holiday season, carry a bottle of water with you so that you can remain hydrated. Often we mistake thirst for hunger. By staying well hydrated, you will also avoid those moments when the food court calls your name. Drinking water will also help you to keep your mind sharp and your body energized.  Many of us indulge in holiday spirits during this time of year. Many alcoholic beverages contain high calories. It is recommended that you drink  more water when you are consuming alcohol than normal.
Eat Before You Go Out:
Whether you are going to the mall or to a holiday party, eating a small snack an hour before you leave the house can help you stay on track.  Have a small healthy snack like cheese and apples, or a green smoothie. By eating something before you go out, you won't be so hungry that you are tempted to eat everything in sight.  You will be able to be social without piling three of those little plates with food.  Also, eat slowly. It takes your brain about twenty minutes to realize it's full.
Get Moving:
Over the next few weeks, our schedules will try to dictate how much exercise we get.  Try to maintain your exercise schedule. However, if getting to the gym seems like an impossibility, finding unconventional ways to keep moving will help you stay on track with your exercise plan. Walking the mall, taking the stairs and parking further away from the door are practical ways to get in some additional movement.  Other ways to get moving include, getting outside for a walk, raking leaves or shoveling snow.  Ultimately,  just don't let the holidays keep you from maintaining your exercise routine.
Enjoy Time With Family and Friends:
The holidays can be a whirlwind of rushing from place to place but being with those we love is the best part of the season.  Take the time to recognize those you love and be thankful for all that you have been blessed with. If you are able to have your loved ones around you, if you are able to share a meal or give a gift, you already have the full measure of what the holiday season is all about.  So. if you eat that extra piece of pie or have double servings of stuffing, be kind to yourself.  Enjoying the moments of celebration in life will do more for you in the long term.