Let Your Faith Be Bigger than Your Fears
In order to Find Your Faith, it involves relying on and putting your total trust in God. Have you ever felt like you are at a stand still? Like everything you are doing is not moving you any closer to your dreams and goals? We all have had those times. In times like that you need to check your faith.
Proverbs 3 (AMP)says "Trust in and rely confidently on the Lord with all your heart and do not rely on your own insight or understanding. a]In all your ways know and acknowledge and recognize Him, and He will make your paths straight and smooth [removing obstacles that block your way]."
This year has put our faith to the test. Many of us have had major setbacks and losses this year. Yet we can also say "But God…"! And for some of us this has been a year of meeting and surpassing goals and expectations. Where ever you fall on the spectrum of emotions and event for this year, it is so important that you remain in faith.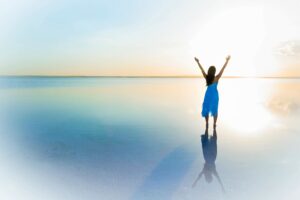 The first way to find your faith is to Watch Your Words. We have what we say we have. We speak things into existence because we have the same power that God has to speak life or death into any situation. Proverbs 18:21 NASB says "Death and life are in the power of the tongue. and those who love it will eat its fruit." What are you saying about your situation? Are you speaking life or death? Are you saying that it will never work or it wont get better? God says it will but you have to speak life and believe.
The next thing you have to do to find your faith is Not Fear. There are 365 times that the Bible says "Do Not Be Afraid". Fear is a faith blocker. It will stifle your productivity and leave you at a stand still. Fear is a warning signal to pay attention but it is not a full stop. For instance, fear will tell you don't move forward or make that call. There are some things that we have to do afraid. There are times to push past the fear but that requires faith. Faith says it all will work out in your favor.
Lastly to find your faith, you have to Walk in Faith. All activity is not progress. Are you making lateral moves or are you moving forward towards your objectives, dreams and goal? Walking out your faith takes a decision. Decide that you are worth the effort and the time it will take to reach your goals. There is no way to get to your destination without first deciding to go. However, change is not change until you change. Get up, go after it!
What would you do if you knew you could not fail?
"I hope all is well with you and that you are as healthy in body as you are strong in spirit."

Stephanie
---